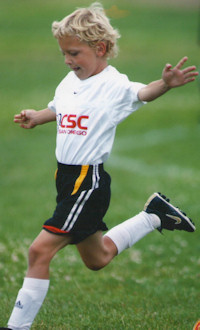 After-school Programs
The German Soccer Academy offers popular after-school programs for many schools throughout San Diego County for boys and girls, grades K through 5, for beginner and experienced players. The program offers an opportunity for children to learn and improve their soccer skills through fun, dynamic and challenging exercises and games. Your children will also learn more about team play and improve their interpersonal skills in a positive, social environment.
We also offer San Diego Sports Academy, a fun after-school sports program for boys and girls, K through 5th. Children will play a variety of sports: Soccer (of course!), Touch Football, Dodgeball, Handball, and sometimes Basketball, German Basketball (a variation of kickball & basketball) and Wiffleball. There will also be fun warm-ups including relay races, speed and agility ladders and "Steal the Bacon".
School
Dates
Times
Einstein Academy
10 sessions (90 minutes each)
Fridays

3:00 to 4:30 PM
Einstein Academy
San Diego Sports Academy
10 sessions (90 minutes each)
Wednesdays

12:40 to 2:10 PM
Fletcher Hills Elementary
Hearst Elementary
La Jolla Elementary
8 sessions (90 minutes each)
Wednesdays

1:05 to 2:35 PM
Language Academy
10 sessions (90 minutes each)
Thursdays

12:45 to 2:15 PM
Lemon Avenue Elementary
6 sessions (65 minutes each)
Tuesdays

1:10 to 2:15 PM
Murdock Elementary
6 sessions (90 minutes each)
Tuesdays

1:40 to 3:10 PM
If you would like the German Soccer Academy to bring it's program to your school, please contact Craig Hyde at info@germansocceracademy.org or by telephone at the phone number (619) 660-1713.
Testimonials
To read what some parents had to say about the after-school program and camps, please click here.
Registration
To register for your particular after-school program, first contact Craig Hyde at info@germansocceracademy.org or by telephone at the phone number (619) 660-1713 to reserve a space.
Then read, fill out and sign the liability release waiver/participation agreement form
and send it along with your payment (cash or check) to:
Craig Hyde
10401 San Vicente Blvd.
Spring Valley, CA 91977
Finally, review the important information and rain policy for the German Soccer Academy below.
Important information
CHECK-IN
Parents, please have your child or children meet with the coach directly after school at either the lunch tables or directly at the playing field to check in. Please contact Craig Hyde if you are not sure where to meet. If a child needs to change clothes or go to the restroom, he or she should do that first but quickly so the other children don't have to wait too long. The school and the German Soccer Academy are not responsible for getting your child to the appropriate area. If your child might forget, try to have his or her teacher help to remind him or her. If your child cannot attend a day, please inform us in advance if possible.
EQUIPMENT
All children must wear shin guards!
Cleats are not necessary. Normal athletic shoes are recommended so that the children do not take too much time trying to get them on or need too much help getting them on. Also, it hurts less if other children get stepped on by normal shoes.
HYDRATION
Children should all have plenty of drinking liquids, even if there is a drinking fountain, which leads to waiting in long lines. Don't forget sunscreen on sunny days!
RAIN POLICY
We will plan to have a meeting regardless of the weather. If it really is raining and too wet to play, we will stay at the school and get a room, perhaps watch a soccer video, until normal pick up time. The parents can decide, of course, to pick up their children if they think it is too wet but the GSA will have a session anyway.
PICK UP
Please remind your children to stay with the GSA coach until an authorized adult comes to pick them up, whereas they must tell a coach before being excused. GSA staff will make sure the children in the after-school program (ESS, YMCA, SAY, etc.) get there, either personally escorted by a coach or escorted by a designated, responsible older child. Craig Hyde reserves the right to charge $1 per minute for every minute after 10 minutes past the scheduled end of an after-school program or 30 minutes after the end of a soccer or sports camp or clinic.
BEHAVIOR
Please remind your children to be on their best behavior as well and that all school rules apply on the soccer field. The children must, above all, show respect for each other, the coaches and the property of the German Soccer Academy. Children must follow coaches instructions at all times to insure their own safety and the safety, well-being and happiness of the other children. We reserve the right to not allow a child to participate for any noncompliance of rules or antisocial behavior.
REFUND POLICY
Craig Hyde has the authority to not grant any refund for any money paid for coaching services, especially in the case where a child has been continuously disruptive, not followed instructions, refused to participate or not shown respect to other coaches or participants. If Craig Hyde determines that a refund request is a valid and reasonable request, he may decide to refund some money, pro-rated for number of sessions child has already participated in, minus a 10% fee.